It's been nearly two weeks since I posted last! And January is flying by at the speed of sound! A few great things happening!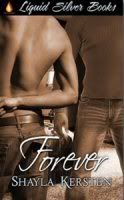 First, my latest book, Forever, received 5 Hearts from
The Romance Studio
. Julia said:
"Forever is an interesting story that had me hooked from the first page. It's not an easy story to read, particularly if you've read the first of the series because then you'd know that Cavan was horribly abused and not really capable of making his own decisions, although with Biton's help he seems to be able to do for himself in some small ways now. With Cavan's past, Biton loves him enough to give up his BDSM lifestyle if that's what it takes. Throughout the book you sometimes wonder if Cavan can make the choice to stay with Biton on his own, but by the end of it you see that he's grown enough mentally to make his own decision which is one of the reasons this book is so good. The relationship between the two men is complicated and rich, and I felt like I was really getting inside both of them and could see the insecurities they had. I would strongly suggest reading the first in the series Thirty Days, because it would help people understand why both men react the way they do, and why the story goes the direction it does. Forever is fantastic story of two people who live a different kind of life, and at the same time are struggling to overcome a brutal past. It's definitely going on the keeper shelf!"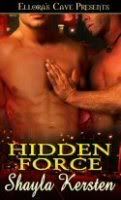 Next, my book, Hidden Force, received a
Recommended Read
at Joyfully Reviewed! The reviewer, Ley, said:
"I really enjoyed this story. Hidden Force grabbed me from the first page and I didn't put it down until I finished. Shayla Kersten did a great job, the suspense kept me glued to the pages. The battle Tony had going on inside himself as he struggled to come to terms with his sexuality and his feelings for Ryan made me feel for him. Ryan's confidence with who he was and his patience and understanding of Tony's struggles just made me love him. This was an intriguing story with mystery, suspense and sweet hot lovemaking, I highly Joyfully Recommend Hidden Force."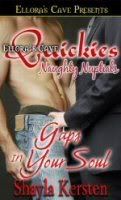 Then, I found out that Gaps In Your Soul won a
Reviewer's Choice Award
from CataRomance! The
original review
from Heather was 5 Stars and said:
Gaps In Your Soul by Shayla Kersten is marvelous! Miss Kersten has taken issues we face today and crafted a wonderful love story out of it. I fell in love with Jared and Dalton and could feel their emotions as they struggled with everything they were feeling. Gaps In You Soul is a page turner that ended too quickly!!!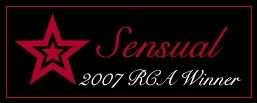 There's some kind of
voting over on the CataRomance site
for book of the year. I'm not politiking but anyone feels like voting, I won't discourage you! I'm happy with the Reviewer's Choice Award!
So this month has been great on the review front! Much Snoopy dancing going on here!
Then, my Ellora's Cave editor emails me with an offer for my NaNoWriMo novel, Past Lies. The unedited blurb:
Two opposite men, two different lives, two sets of past lies

With his twenty year high school reunion looming, Paul Loughton dreads seeing the one person who could tempt him to stray from his path. Small town mayor, lawyer and budding politician, Paul won't, can't admit he's gay, even to himself. Twenty years of longing and hiding is now threatened by an inevitable encounter. Pressure from his family and a stalking ex-fiancée compound his suddenly complicated life.

Randy Martin left his small town roots behind before the ink on his diploma was dry. The cliquish world of his childhood didn't have room for the weird kid from the wrong side of the tracks. Rumors of his sexual preferences made life that much more difficult. Now, twenty years later, he should be anxious to rub his wealth and success in the faces of his former classmates. Except with one of them, the urge to rub something else hasn't diminished over the years.


What a great way to start the new year!