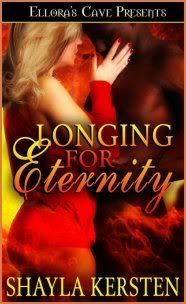 Another fantastic cover by the incomparable Les Byerley!
LONGING FOR ETERNITY
Coming to Ellora's Cave, July 2nd!
Although this story has some male/male interaction, the main focus is on the relationship between Serena and Zaki.
Blurb:

Serena's love for Zaki surpassed death, but her transformation into a vampire has kept her separate from him for thirty-four years. Her heart and body crave him, but the natural enmity between vampires keeps their visits brief. Now fate twists its fickle fingers into her life and teases her with a solution. And a piece of her heart she'd thought lost forever.
Zaki has spent two millennia living by the rules of vampiric nature—alone. Sex was a means to blood, not love, until Serena entered his life and enslaved what was left of his soul. Now his longing for eternity with the one woman who captured his heart may become a reality. If they both survive long enough for the cure…