Every time I see this, it brings me to tears. A woman most people wouldn't look twice at, hit the British airways then through the internet has stormed the world. Her dream to be a professional singer was a long time coming but I have no doubt she will not fade back into the obscurity of her little village. Just goes to show you should never give up on a dream.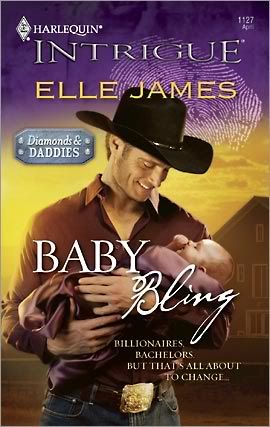 Speaking of dreams, my long time galpal
Elle James
reached the Walden Borders best seller list with her newest Harlequin Intrigue, Baby Bling! Pick up a copy today and keep her climbing the ranks to one of her dreams come true! I bought my copy yesterday! Elle said to not let the cover or title fool you. She said, "
I blow up a ship, crash a helicopter, burn a house, and lots more fun stuff in it! ... so if you're so inclined toward action-adventure-mystery-suspense-romance, check it out soon!" I love it when Elle gets destructive! Makes for some fabulous reading! *cackle* Get a copy today at eharlequin.com or your local bookstore. Remember, Harlequin books are only on the shelf for a month so get out there and see how much Elle has tormented her lastest hero and heroine!
And a couple more dreams come true! Running Press rel
eased two new historical romances this week. Transgressions by
Erastes
and False Colors by
Alex Beecroft
are being shelved in the regular romance sections of major bookstores. Why the big deal? Both novels are gay romances! Instead of relegating them to the GLBT section of the bookstore to be mixed in with fiction and non-fiction of all types, Transgressions and False Colors are out there in the romance section!
And I have proof! In Little Rock, Arkansas, at the Barnes & Noble on Financial Parkway, I found the books and took pictures! Then bought a copy of each. My book bill was a little high yesterday! *cackle*
Click on the pictures for a larger view! I love seeing a gay romance sitting next to Janet Evanovich and Shayla Black! It's a fabulous step forward for the genre and these two wonderful authors. And the good news is, there will be more! The back inside cover of both books announced the fall releases of Tangled Web by Lee Rowen and Lovers' Knot by Donald L Hardy.
Pick up both books at your local bookstore today! Snap a picture for Erastes' contest (
http://erastes.livejournal.com/375556.html
).
I also drove the poor folks at B&N a little crazy yesterday. Part of my shopping list--besides the three books above--was Beyo
nd Heaving Bosoms: The Smart Bitches Guide to Romance Novels. Sarah Wendall and Candy Tan of
Smart Bitches, Trashy Books
have taken their collective knowledge and formed the ultimate guide to romance novels! With chapters names like Cleavage, Petticoat, Corset and Codpiece, you know their wonderfully irreverent humor marks this book as a must have for anyone who loves romance enough to laugh at the stereotyping surrounding the genre!
I didn't get a picture on the shelf because this wonderful guide released yesterday and the poor folks at B&N hadn't gotten the new releases shelved. The poor gentleman who first assisted me didn't seem to understand what I was saying and kept asking me to spell "bosoms". I would say he was an older man but he was probably my age and I don't like to call myself old. The younger man--whose name I should know since I've talked to him a dozen times at least--was able to find the book on the carts in the back waiting to be shelved. Then I made him crazy looking for one more book. Mine!
Or the one with one of my short stories, The Shopping List! The Black Lace anthology, Seduction, released yesterday! I had given away my only author's copy for a Roses Colored Glasses basket to be raffled at the Merritt conference in San Antonio, Texas. (I'll be there May 2nd!) I wanted to pick up another copy but once again, the book wasn't on the shelf. While the computer said it was there, the poor customer service dude couldn't find it anywhere. I told him I'd be back on Saturday so maybe I could pick it up then. He promised to figure out where it was shelved by then. *cackle* Poor dude.
Writing for Black Lace has been a dream of mine for several years. Even if it's only a short story, it's a start. Pick up Seduction at your local bookstore and check out The Shopping List along with a dozen other stories by fabulous erotica authors like
Shada Royce
,
Katrina Wright
and
Portia Da Costa
.