Today I get to actually sit at home and write! *cackle* This week begins my full time writing but so far, I've spent the first two days doing other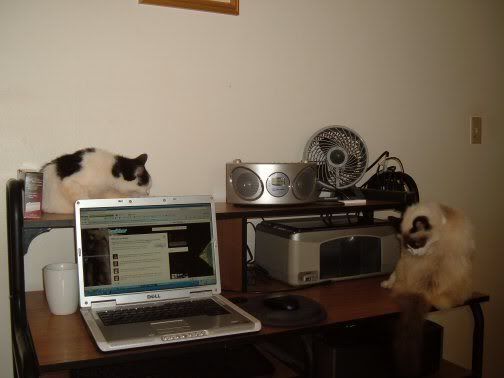 things! Monday was a trip to Little Rock to check out Veteran's health benefits. I need to get them set up so I have coverage once the day job stuff goes away. I have some additional paperwork to fill out but I should get that taken care of next week. Yesterday, I spent all day dealing with some tests at the hospital. Good thing the day job coverage is still in effect!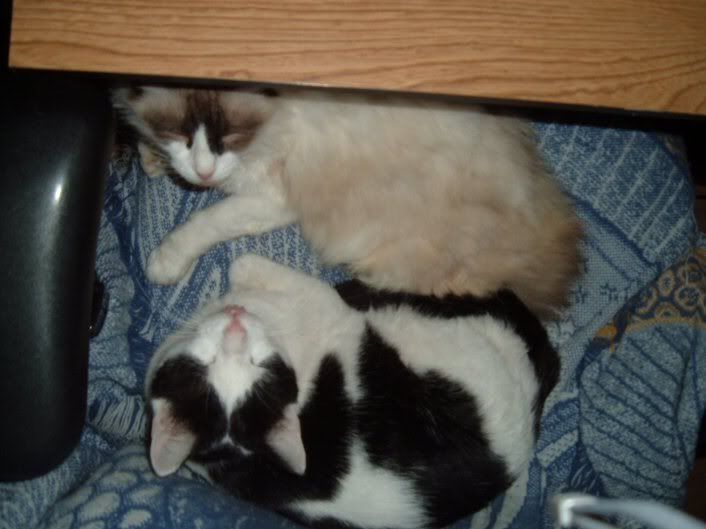 But today...I've got coffee brewing and I'm sitting at my desk working. I consider blogging working as long as I don't get too carried away. *cackle* Here's a picture of the new setup. I moved my desk into the living room to get away from the television. Too much distraction and the only TV is in the bedroom. You can also see I have plenty of help--not! The cats think the placement of the desk is for their use as a kitty condo.
And the chair is absolutely the best new "bed" in the house, complete with a nice warm throw.
I'll be working the kinks out with the "help" as we go along. *snort* Or until I'm properly trained.
As for now, the 18k novella went overtime. It stands at 20,062 and will probably end closer to 21k. As I wrote the last scene, I kept "telling" things that happened off screen between one of the heros and another character. Finally I gave up, went back to about the middle of the story and "showed" the scene. Now I'm back to finishing the last scene. Then it's off to my wonderful critique partner and I'll be on to the next project!
EC Novella (revised target)
Mainstream submission